How businesses function has changed in the last two decades drastically. Not only are businesses using digital technologies and online services extensively, but they are also resorting to specific applications for their needs.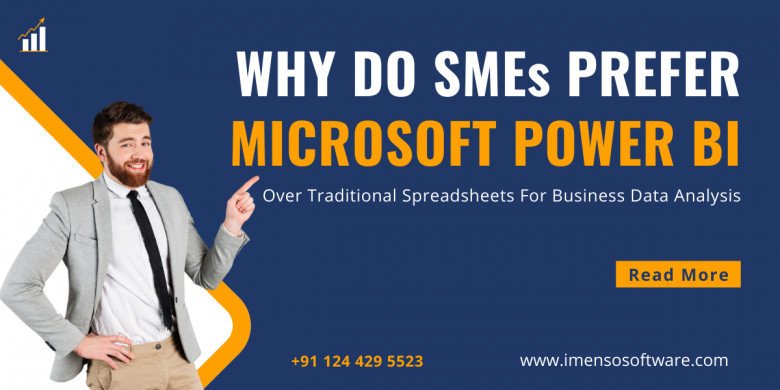 How businesses function has changed in the last two decades drastically. Not only are businesses using digital technologies and online services extensively, but they are also resorting to specific applications for their needs. It is not just about using office productivity software or getting a stunning website developed. Businesses have to deal with mammoth amounts of data, and for that, they need specialised BI and data analysis solutions. One such example is Power BI- from the stable of Microsoft. It is being picked to replace older spreadsheet applications by many companies.
Why is Power BI being preferred by SMEs over typical spreadsheet applications?
From the time computers started seeping into business setups, millions of companies started using office productivity suites. These software suites typically come with a spreadsheet application component. Microsoft has its own spreadsheet tool, and there are many other commercial and freeware contenders as well. These applications have been used by businesses of varying sizes and types for more than two decades. They are still going to be used, but the emergence of BI and data analysis tools like Power BI has ended their monopoly.
There are many reasons for which so many businesses are switching to Power BI from typical spreadsheet applications. These are:
Scope of usage- As it is, the spreadsheet applications were developed to be used as a part of the office productivity application set, also consisting of word processing and presentation software. These applications are best used for making calculations and using mathematical formulas fast. However, for analysing data more intricately and transforming the calculation into a visual form, they fall short.
The BI and data visualisation solutions like Power BI can be used for extensive data analysis, and they are well suited for making reports and performing data visualisation in a highly customised manner. This makes the BI tools much more versatile, and they can be used by many businesses for numerous purposes. 
Integration with third-party tools- When your company analyses data for various needs, the data has to be imported from numerous online sources and also from many other applications. So, the data analysis and calculation tool has to be compatible with other applications. Spreadsheet applications typically are compatible with office productivity applications, and in these suites, you can import data without hiccups. However, Power BI trounces Spreadsheet tools when it comes to third-party application integration. 
Power BI can be used to import data from leading Spreadsheet tools, and it is also compatible with many database applications, numerous web applications, and cloud services. So, this makes it a prudent choice for businesses to use such tools for data handling and analysis. To facilitate better integration with third-party tools and services, seeking services of a veteran power bi development agency will be necessary.
More powerful, faster processing- Mid to large-sized businesses deal with huge amounts of data and even for small businesses, the data volume keeps growing with time. Typical spreadsheet applications can be used to process a certain amount of data at a time. Dealing with gargantuan amounts of data on a daily basis is not what these tools were designed for. On the contrary, Power BI was designed to deal with massive amounts of data without any issues. It is also faster than typical spreadsheet tools in data handling and calculation tasks. 
Enhanced visual elements customization- Nowadays, you will find the majority of spreadsheet applications laden with diverse types of visual elements. There are charts and graphs of varying types, and you can also use maps. Inserting clip arts and images is also possible. However, Power BI races ahead of these applications in using visual elements. It has a wider range of visual elements and offers a great level of customization too. Its dashboards are far more visually appealing than the visual presentation capabilities of spreadsheet applications.
Turning data into insights- Both spreadsheet applications and Power BI can handle data processing, but that is not the only thing that matters. Drawing insight from the data is also important. Power BI can be used to generate interactive and dynamic reports fast. It comes with natural language querying and extensive filtering embedded. While spreadsheet applications can be used to display incomprehensible data formats, they are not as flexible and versatile as Power BI. They are not ideal for analysing complex and large data sets.
Enhanced data security- While businesses are dealing with massive amounts of data, they have to ensure the data is safeguarded. Leakage or theft of critical company or customer data can pave the way for lawsuits and monetary damage, and they would not want it at any cost. So, it is necessary that the tool used for data analysis is laden with robust security features. 
Compared to typical spreadsheet applications, Power BI scores better on the data safety front. It ships with powerful security controls such as role-based authentication, networking security, cloud-based security, session monitoring etc. On the contrary, typical spreadsheet applications offer limited security features like password protection and document locking etc. To ensure you can make the best use of embedded security features in Power BI, you will have to hire veteran power bi consultants.
Better for collaboration- With time, regular spreadsheet applications have been laden with enhanced sharing and collaboration features. However, Power BI is ahead of them by several miles when it comes to real-time sharing and collaboration. Sharing documents and reports is easier and faster in Power BI. What's more, you can share Power BI reports with users who do not use the tool without hassles. Power BI Service makes data publishing and updating a breeze. A veteran power bi developer can guide you in leveraging sharing features in the tool.
Scalable and flexible usage- Power BI comes in many flavours, including a free version which also comes with plenty of features. There are enough options for businesses of varying sizes to start using the tool. Free spreadsheet applications are quite limited in terms of features, and even the paid ones cannot match Power BI in several departments. Growing companies can start using the free version of Power BI and later switch to licence-based editions.
Summing it up
Both commercial spreadsheet applications and Power BI come with powerful data processing features. However, it can be hard to pick between the two. You have to think of your budget and usage needs. If performing calculations and data manipulation is all you need, typical spreadsheet applications may be just fine. However, for extensive data visualisation and easy report generation and sharing, Power BI comes out on top. It is also better suited for SMEs coping with an increasing amount of data. Hiring the top power bi consulting services will be necessary, though.