Best Mobile App Development Companies in India
Over the years, the environment of mobile applications has seen steady change. In recent years, India has emerged as a center for businesses that create mobile applications. The demand for these apps has skyrocketed with the proliferation of smartphones. Every year, new technological trends emerge as a result of ongoing corporate innovation.
In 2019, India became the largest hub of mobile app developers in the world. Small and medium enterprises and startups are increasingly looking to develop innovative mobile apps for their businesses. These companies are looking for rich features such as geo-location tracking, live chatting, video call making, and chatbots along with connecting virtual reality, augmented reality, Internet of Things (IoT), and more.
Here is a rundown of the top 10 mobile app development companies in India which have been carefully evaluated on various performance indicators based on proven track records and diverse portfolios, quality of end product, experience, core technical expertise, project management strategy, adherence to timelines, and so on. Budgeting, App Prototyping, and UI/UX Design.
Mobile App Development Companies in India :
1.FuGenX Technologies: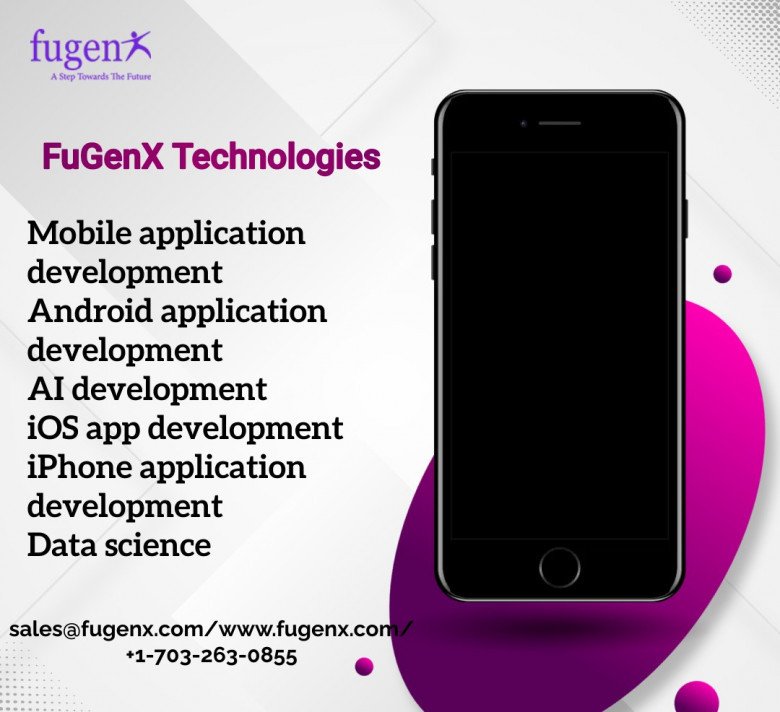 FuGenX Technologies is a leading web and mobile app development company in Bangalore providing excellent and quality services in mobile application development. They have developed applications on android and ios platforms with their highly skilled mobile app developers. They have a strong team of skilled and experienced technical engineers and professionals, which gives their clients a great advantage in terms of scale, cost, and geography. Starting from ground-up installation, you get a scalable and reliable product for your business face. FuGenX specializes in application development, from the analysis of a business strategy to the design of applications that align business needs.
FuGenX offers a wide range of customized services in Mobile Apps, Website Development, AR-VR Development, Game Development, Blockchain Development, and more. Their custom mobile app development services include native app development, cross-platform app development, wearables, and embedded software, and progressive web app development.
2. USM Business Systems:
USM Business Systems is a full-stack mobile application development company specializing in developing all types of mobile apps on Android, iOS, and Windows platforms. They provide user-centered product design and engineering services to enterprises and specialize in social applications and API integration. USM Business Systems helps you to always deliver exceptional service and present your business to your customers through functional, attractive, satisfying, and memorable mobile apps.
3. Hyena.ai:
Hyena.ai is a certified mobile app development company in India and United States. Hyena.ai specializes in developing apps for iPhone, iPad, Android, Blackberry, and the Web. They have a team of designers, artists, software developers, and technicians focused on providing the best iPhone, iPad, Android, Blackberry, and web-based apps for their clients.
4. Value Coders:
Value Coders is a full-service product development firm that specializes in cutting-edge technology. For its customers, they create high-end software, from startups to business solutions. Through their distinctive understanding of strategy and cutting-edge user experience creation for both web and mobile, they strive to assist you in succeeding.
5. Techno Stocks:
Techno Stocks is one of the famous mobile app development companies in India. They have dedicated mobile app developers who examine the client's requirement and their business in end-to-end detail. They make sure to meet clients with their expert app developers to deliver extraordinary results and exceed clients' expectations.
6. Sphinx Solution:
Sphinx Solution is a mobile app and software development company specializing in the design and development of iPhone, iPad, Android, and Blackberry-based mobile apps and websites. They offer a full range of services from helping you develop a mobile strategy to final quality assurance and release of your app. It is a promising Indian company that believes in providing quality technology and services in the global industry with many years of experience.
Read also: Top 10 mobile apps development companies in usa
7. The Nine Hertz:
Custom software development firm NineHertz is situated in Jaipur, India. They are specialists in web and mobile app development. The main goal of Nine Hertz is to offer high-quality services to all different kinds of organizations, from startups to large corporations. The business focuses in creating apps for iOS and Android.
8. Octal IT Solution;
One of the top mobile app development businesses in India is Octal IT Solution. They are dedicated to building a loyal following of customers, partners, and staff by offering top-notch goods, easy transactions, and after-sales assistance. For their clients around the world, they have created iPhone, iPad, Android, and Blackberry apps.
9. Appinventiv:
Appinventiv is an Indian app development company based in Noida. The company is a one-stop solution for your custom mobile app development with high-quality integration, development, security, and quality assurance. Appinventiv delivers mobile app projects from startups to enterprise-level clients worldwide.
10. Hyperlink Infosystem;
One of the best mobile app development businesses in India is Hyperlink Infosystem. With years of experience in the mobile app development industry, Hyperlink Infosystem is a team with expertise in mobile app technologies for Android, iOS, and Windows platforms and years of experience in providing top-notch software products to the most reputed clients around.
Conclusion:
There are thousands of mobile app development companies in India and we have compiled a list of some of the top companies. Choosing the right kind of company for your project development is really a big task. You can discuss your business idea with them in detail and go through their portfolios to understand them better. All the companies listed above have made business-boosting apps over the years and equipped them with the latest technology trends.
Author Bio:
Hello everyone, I'm Gangadhar Chemudu. I'm a passionate content writer and SEO Executive working in FuGenX Technologies. FuGenX is the best mobile apps development company in USA, India, and the UAE. I am curious about the latest technological developments. For topics related to mobile app development, IoT, Artificial Intelligence, machine learning, IOS, and technology, contact me on LinkedIn.
Read also: Best mobile app development companies in Bangalore