2023 upgraded version thermal bluetooth tattoo stencil printer is compatible with IOS system, can be connected to Apple devices via bluetooth/USB.
VLOXO Bluetooth Tattoo Stencil Printer Compatible with IOS System 2023 Upgraded Version
Comparing with old version thermal tattoo stencil printer, VLOXO bluetooth tattoo stencil printer can output tattoo stencil via robust APP directly, you don't need to have a printer to print the image, save time and money.
Why Choose VLOXO Bluetooth Tattoo Stencil Printer?
1. Fine Detail Unlike any Other
The printer head is designed for intricate outlines, leaving the shading and filling up to the artist. The specially designed D1.0 print head and carefully calibrated 203 DPI density hits the transfer paper with the exact amount of thermal force to print fine art, no more, no less.
2. Robust App
The App for VLOXO tattoo stencil printer is capable of uploading picture files, putting extra text/designs, creating printed documents and even taking a picuture and printing the design from the picture.
Note: pls use a photo editig IOS app to resize pictures as the APP for the thermal printer cannot resize pictures.
3. High Digital
At 203 DPI (8 dots/mm), 1728 dots per line, VLOXO tattoo stencil printer is capable of outputting the finest, smallest and most intricate outlines of any thermal stencil printers currently on the market. The specially designed print head was developed for intricate detail.
4. Compact and Veratile
Compact size with the included travelling pouch makes this tattoo printer the perfect travel buddy to conventions, shows and gust spots at shops.
Capable of battery operation ,however for best results, ples use the printer plugged in Micro USB interface.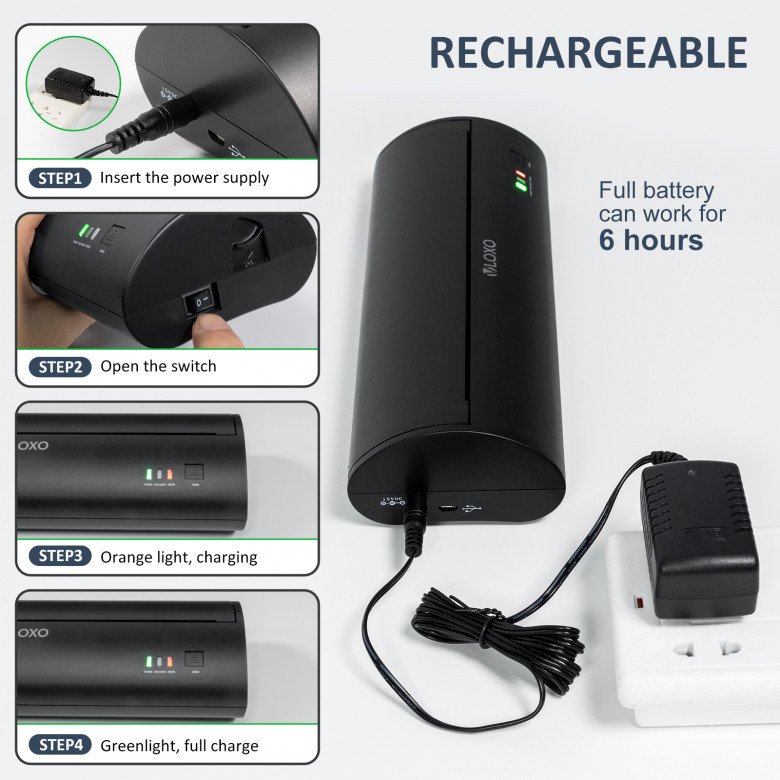 5. IOS Compatible
Connects via bluetooth/USB to Apple iOS devices via a robust APP that allows you to edit, add, adjust and output stencils. Uses 8.5″ x 11″ or 14″ (A4 size) thermal stencil paper
6. Easy-to -Use
The instruction manual comes with detailed App, WIFI, Connectivity Tips and other setup instructions.
7. Low Heat, Low Noise and Lightweight
40dB noise when working, very quiet. No need ink and no replacemnent parts, no heating elements, cylinders, or bulbs. 0.77kg (1.69lbs) total net weight super portable, comes with a travel pouch, is ideal option to bring on the road.
8. Warranty and Service
VLOXO provide 1 year warranty and free technical support. If you have any question, pls contact our customer service.
Why The Official Print Density is Stated at 203DPI with 1728 Dots Per Line ?
This does not sound spectacular considering how advanced printers have become. However, printing on transfer paper is not the same as printing on standard sheets of paper. Transfer paper is prone to smudging and that is why a high DPI may not be advantageous for intricate tattoo designs. If each dot from a high DPI printer is smudged, soon you will have a blob. We have encountered this issue often with other stencil printers that are limited to printing larger lines and designs.
VLOXO Bluetooth Tattoo Stencil Printer Specification
Effective Printing Width: 210mm
Resolution: 203 dpi
Net Weight: 0.77 kg (1.69 lbs)
Size: 265 *93 *53 mm
Connecting Way: Bluetooth+USB
Input: 15VDC-1A
Power supply: 110 V-220 V, 50-60 Hz
Paper Size: A4 transfer paper
How To Use VLOXO Bluetooth Tattoo Stencil Printer ?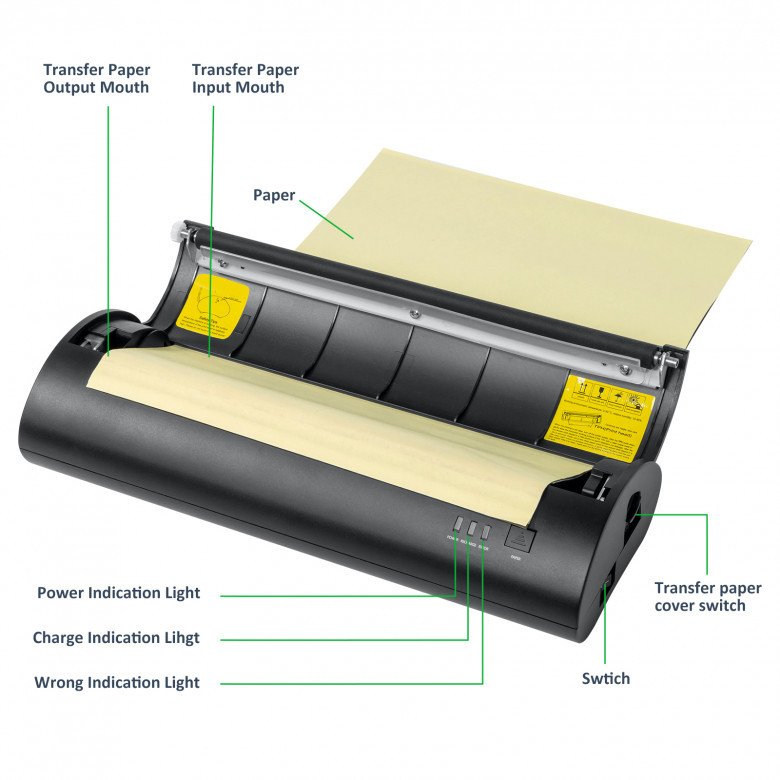 1. Search MYX print on google or APP store, download and install the APP
2. Turn on switch on tattoo printer and connect to the APP
3. Put in transfer paper
4. Choose the pattern to be printed from Apple devices, set the parameters
5. Print
Packing List
1 x Printer
10 x Transfer Paper
1 x Travel Pouch
1 x Power Cord
1 x USB Cable
1 x User Manual