VLOXO bluetooth tattoo stencil printer 2023 version is compatible with IOS, Android and Windows system, works with phone , tablet and PC, is smarter and more economical than old style thermal tattoo printer.
2023 version bluetooth tattoo stencil printer comes with 203dpi resolution, 10~30mm/s printing speed, can print the finest, smallest, and most intricate outines in seconds, connect to phone, tablet or pc via bluetooth or USB cable, very stable and smart. lightweight, rechargeable, no replacement part, no need ink, significantly speed up tattoo process.
2023 Version Bluetooth Tattoo Stencil Printer Hightlights
1. Impact, portable & Rechareable Design
VLOXO bluetooth tattoo stencil machine 2023 version weighs only 1.4kg, 267*95*51mm size, built-in lithium battery, can work 3~4 hours after fully charged, very convenient to bring on the road.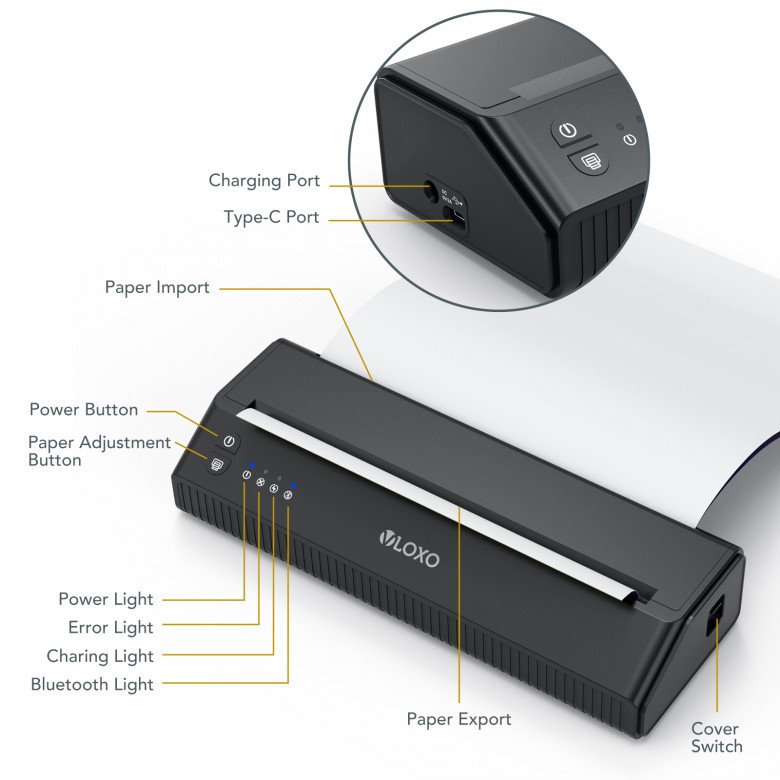 2. Robust APP Easy-to-use
Download exclusive APP "tattoo printer" from APP store or google play, connect the tattoo printer via bluetooth. The app allows you to quickly output copies of pictures, self-painted pictures and more from intelligent devices, and then be easily trasferred to the skin.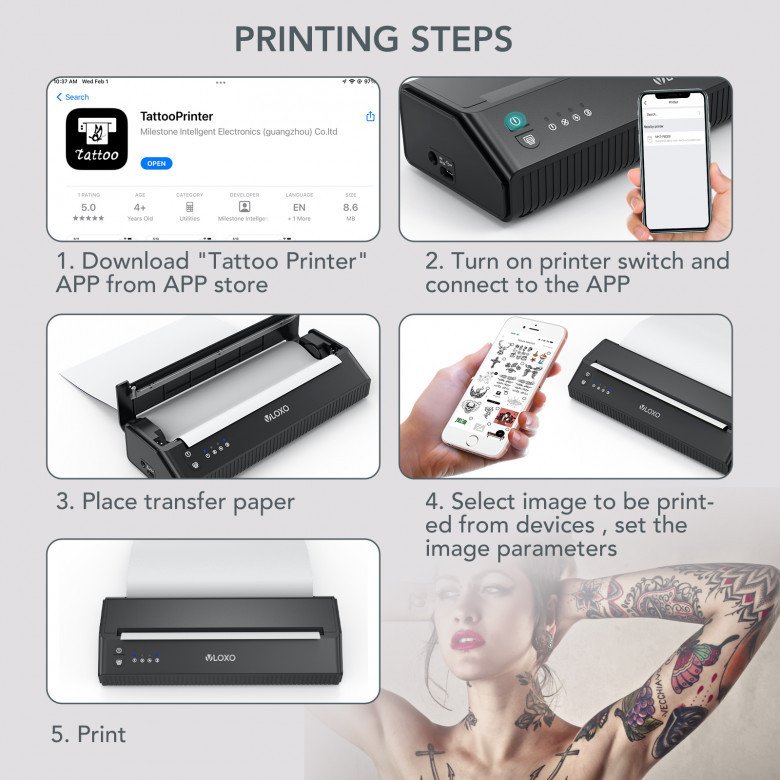 3. Economical & Environmental
Comparing to old style thermal tattoo printer, this new bluetooth tattoo printer is more economical becasuse you can output the stencil directly via APP without printing the patterns on carbon paper first. No replacement part, no heating elements, cylinders , or bulbs and no ink needed.
4. Compatible with IOS/Android/Windows System
This new bluetooth tattoo stencil printer compatible with both IOS and Android system, you can connect it to phones, tablets and PCs. Bluetooth 4.0, connection is fast and stable.
5. High Digital
At 203 dpi(8 dots/mm), 1782 dots per line, this new tattoo stencil machine is capable of outputting the finest, smallest and most intricate outlines of any thermal stencil printers currently on the market. The specially designed print head was developed for intricate detail.
6. Easy-to-Use
The instruction manual comes with detailed app, bluetooth connection tips and other set up instruction. 5 easy steps to get printing done.
7. Wide Application
New bluetooth tattoo stenicl printer can print patterns with simple lines, complex lines, simple shadow and simple color well.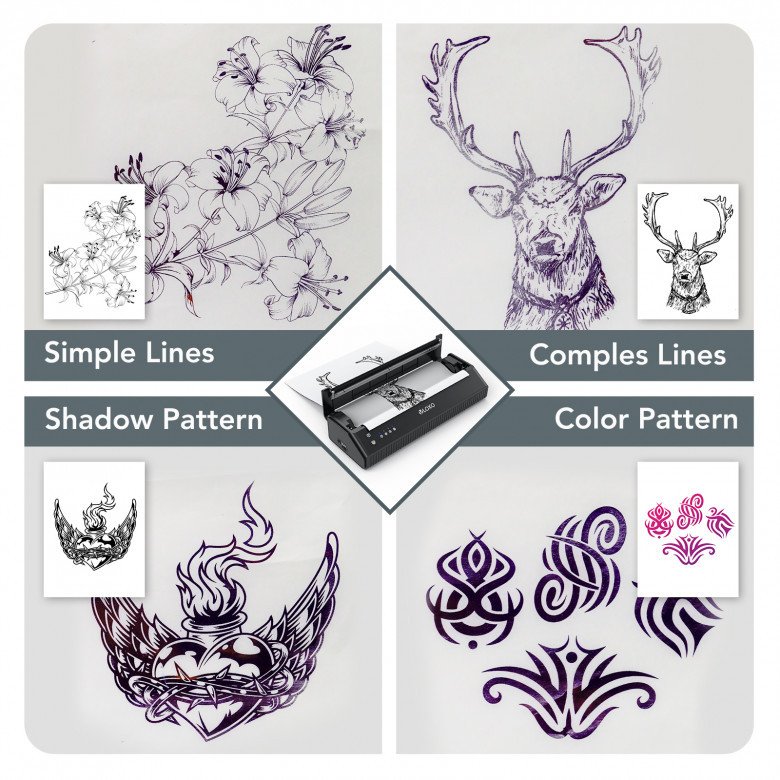 8. Free Gift
Comes with 10pcs free tattoo stencil tranfer paper for frist try, and 300+ patterns download link.
Specification
Printing Width: 210mm
Resolution:203dpi
Printing Speed: maximum printing speed 10~30mm/s
Printing Density: 8 dots/m(203dpi), 1728 dots/line
Compatible System: IOS/Android/ Windows
Inferface: Type-C USB
Bluetooth: 4.0/(4.0 above)
Battery Capacity: 1500mAh
Input: 5V-2A
Weight: 1.35kg
Size: 267mm*95mm*51mm
Connecting Way: Bluetooth+USB
Paper Size: A4 stencil transfer paper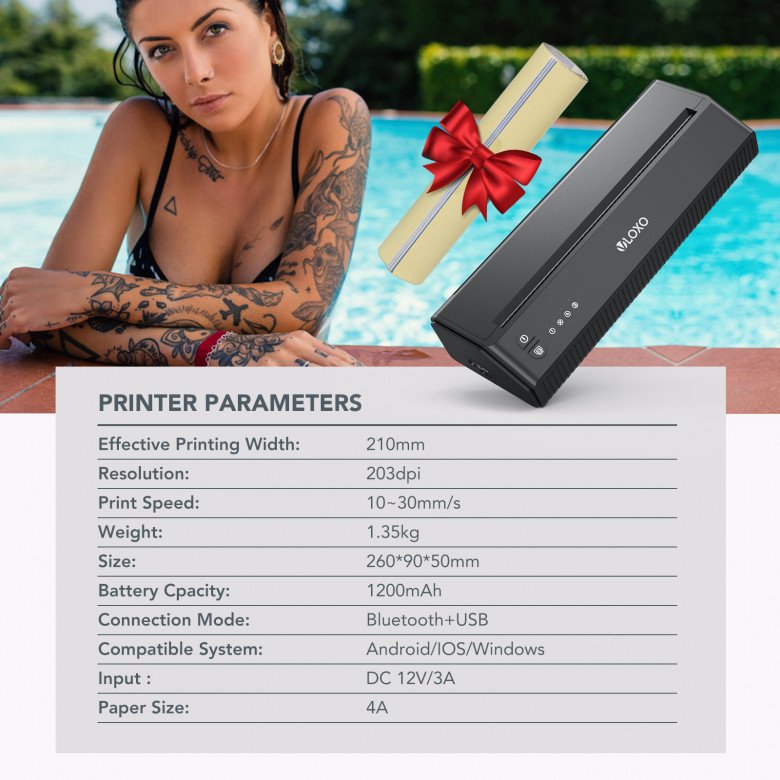 How to Use the New Bluetooth Tattoo Stencil Printer?
1. Download "Tattoo Printer" APP from APP store or Google Play
2. Turn on printer switch and connect to the APP via bluetooth
3. Place transfer paper. Remove the protective white paper, and tear off back yellow sheet. Place the white paper upward and blue paper adown.
4. Select images to be printed from devices
5. Click Print